In 2009, during a trip to New York,  I saw a
special exhibition
of works by J. M. W. Turner at the Metropolitan Museum of Art, with over 140 paintings and watercolors by the artist.    During trips to London, I've had the opportunity to see many more works by Turner at the Tate Britain and the National Gallery.
Seen at the National Gallery, London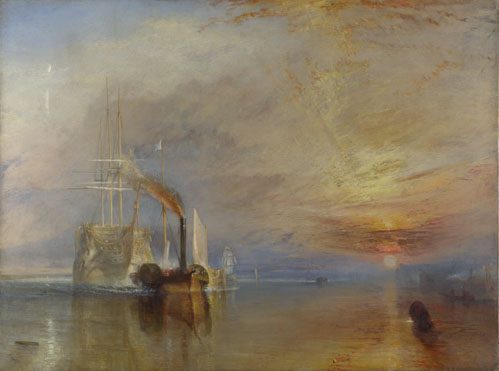 Image courtesy The National Gallery website

The Fighting "Temeraire" tugged to her last berth to be broken up, 1838


In a poll conducted by the BBC in 2005,
The Fighting Temeraire
was overwhelmingly voted the greatest painting in a British art gallery.  It was also a favorite painting of Turner himself, who painted it in 1839.  It is one of many paintings bequeathed to the British nation by the artist.
As if often the case with oil paintings, online reproductions do not fully capture the range of colors or luminosity of the  original works.  In the case of this painting, it's interesting to look at a few other examples to get an idea of the limitations of such online reproductions:
 

Image courtesy Wikimedia Commons website

 

Image courtesy Web Museum website

 Wikimedia Commons  
 View Source

 Web Museum
View Source

Seen at the Tate Britain
 

Image courtesy Tate Britain website

 

Image courtesy Tate Britain website

Peace - Burial at Sea
View Source

War, The Exile and the Rock Limpet
View Source

Seen at the Metropolitan Museum of Art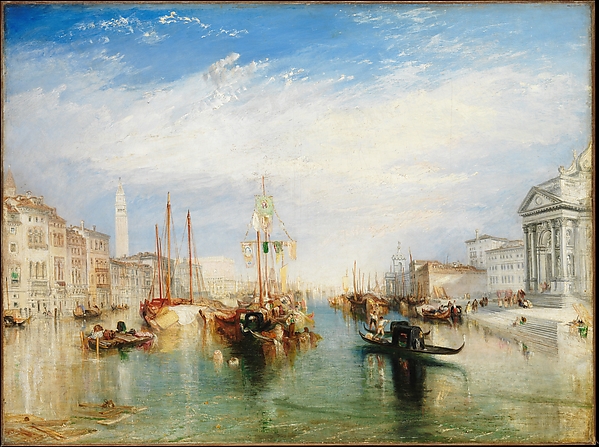 Image courtesy The Metropolitan Museum of Art website


Venice, from the Porch of Madonna della Salute  (also known as The Grand Canal - Venice)

Again, it is instructive to look at the variation across online reproductions:
 

Image courtesy Wikimedia Commons website

 

Image courtesy Web Museum website

 Wikimedia Commons
View Source

The Grand Canal - Venice
View Source

Links to more info on Turner:
New Yorker article
Tate Britain web pages
National Gallery web pages
Paintings from Metropolitan Special Exhibition
WebMuseum Turner page
Wikimedia Turner page

Wikipedia article on Turner

Wikipedia article on The Fighting Temeraire
List of links from Artcyclopedia